The first presidential debate will take place on Sept. 29 in Cleveland, Ohio.
Notre Dame was originally going to host the first bout between President Trump and former Vice President Joe Biden.
However, the university had to pull out of the process due to concerns about its ability to implement COVID-19 safety precautions.
While you can't legally bet on anything related to presidential elections in Indiana, there are still some ways to have fun with the situation and potentially win some money in the process.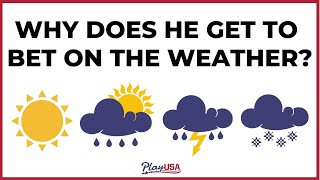 Despite the lack of presidential betting options, FanDuel is hoping to get in on the election year fun with its new free-to-play contest.
FanDuel Presidential Debate Pick'em
FanDuel's 2020 Presidential Debate Pick'em is handing out $50,000 in cash prizes.
The company is running the pick'em game for each of the debates, so you'll have plenty of chances to hop in.
Each time, players will have to answer up to 10 multiple-choice questions.
The players with the most correct answers will split a $10,000 prize. Once all four debates are over, the top players from every debate will split an additional $10,000 prize.
The questions will change from debate to debate. Here's a look at the questions for tomorrow night's debate:
How will the candidates greet each other?
What issue will the first debate topic address?
Which candidate will be asked to respond first in the debate?
What color will Trump's tie be?
Will Trump refer to Biden as "Sleepy Joe"?
Will Biden and/or the moderator mention Trump's Twitter activity?
Will Biden mention "Scranton"?
Which candidate will be the first to be cut off by the moderator because they are over time?
Will Biden play a song on his phone during the debate?
Will Trump mention "fake news"?
To get in on the action, first you'll have to sign up for FanDuel if you don't already have an account.
Once you have your account set up, just head over to the daily fantasy side of FanDuel to get started. Click on the banner for the contest at the top of the screen to make your free picks.
According to FanDuel CMO Mike Raffensperger, free contests like this are all about giving users as many options as possible.
"We remain as committed as ever to our brand promise of giving our players more ways to win. We demonstrated this when we hosted our first-ever political contest for the Democratic Debate back in March, which our customers loved."
New Players get up to $200 in Bonus Bets at FanDuel Sportsbook
1
Up to $200 in Bonus Bets
Available on Desktop, Android & iOS

To Claim: Click Play Now

More debate contests to come
Since Sept. 29's debate is the first of several, there will be more free-to-play contests coming.
There are two more presidential debates on Oct. 15 and 22, as well as a vice presidential debate on Oct. 7.
With plenty of time between now and the election, expect more companies to get in on the action.
Since FanDuel announced its debate contest, DraftKings has already created one of its own.
Just a day away from the 1st Presidential Debate. Print out the pool prop sheet and follow your picks.

And don't forget to enter the FREE presidential debate pool for a share of $50K in prizes: https://t.co/hFMcWyLcvm pic.twitter.com/sSTFdQbsjq

— DraftKings Sportsbook (@DKSportsbook) September 28, 2020
Regardless of your company of choice, you'll have plenty of election options out there to pick from.
You might not be able to legally bet on the election, but at least contests like these give Hoosiers a fun way to mix up the usual election schedule.