Over/Under Betting
Live odds at IN online sportsbooks + over/under betting tips
Over/Under bets (also known as totals) are widely known as one of the easiest ways you can bet on sports. Perhaps more than any other bet available in Indiana, the over under bet is about taking on oddsmakers heads up.
Indiana online sportsbooks post totals lines for every major pro and college sport, including the:
NFL
NBA
MLB
NHL
NCAA football and basketball
You'll also find totals lines for major sporting events outside the Big 4 including UFC fights, NASCAR races, and PGA golf tournaments.
Below you'll find current over/unders available at Indiana online sportsbooks. Plus, find a quick guide to totals betting. That includes how to read totals lines and bet on them, how over/unders are set, why some totals lines are better than others, and some mistakes you should avoid while betting totals.
Over/under lines at Indiana online sportsbooks
See our feed below to find real-time over-unders posted at Indiana online sportsbooks. Click on any totals square to go directly to the online sportsbook, claim your bonus and start locking in your bet.
Use the drop-down menu to see more over/unders in other sports or to see moneyline or point spread bets.
—–
What is a totals or over/under bet?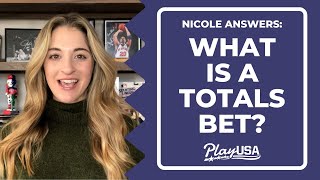 Totals or over/under betting is betting on whether the total number of points scored by both teams in a game will be over or under the totals line posted by oddsmakers.
Winners and losers don't matter. You're only betting on the total number of points scored and how that compares to the line. Totals bets are placed at currently posted moneyline odds, which are usually the same for both sides of the bet.
How much does an over /under bet pay off?
Since you place totals bets at the currently posted moneyline odds, your winning totals bet gets paid at the odds set when you made the wager.
"Over" bets pay out when more points are scored in the game than the line set. "Under" bets get paid when fewer points than the line are scored.
When the number of points lands right on the line, it's a push and all bets are returned. That's why most  over under sports bets are posted with a half point. Half points mean no push.
How much should you bet on a totals bet?
Most professional sports bettors will stick to the principal of never betting more than 1% of their total bankroll on any one bet, and that includes over/unders.
We suggest setting a unit amount equal to that, then betting anywhere from one to three units on any totals bet based on your confidence in that bet.
For example, if your monthly betting bankroll is $100, one unit would be $1. Therefore, for a totals bet, you'd want to stay around $1-$3. Betting with units helps with bankroll management.
If you find a low-looking NFL totals line for a game involving two top-flight offenses, you might want to consider betting two or three units on the over. If you see a line that looks only slightly high for two defensive-minded squads, you might want to bet just one unit on the under.
You should avoid betting anything at all on totals lines that look spot on. Just because Indiana sportsbooks post a totals line for almost every game doesn't mean you have to bet on them all.
How does over under betting differ between sports?
Like we said earlier, Indiana sportsbooks post totals lines for every major pro sport, college sport, and almost every major sporting event. Of course, these lines can look a lot different from one another, based on the sport and the production levels of the teams involved.
While NFL totals lines mostly hover between 40 and 50 points, NBA totals lines are almost always over 200. In the meantime, you won't find many NHL totals lines above 3 or MLB over/unders above 4.
Over/unders look even more diverse for other major sporting events. They might include a total rounds bet for UFC fights, total laps for NASCAR races, and total birdies for betting on a PGA golf tournament. Oddsmakers lean heavily on expertise and historical data when setting these totals lines.
In-game over/unders
Live and in-game betting allows you to bet on sporting events once they're already underway. The odds change alongside the action in the game.
You'll find various quarter and half in-game totals lines posted by Indiana online sportsbooks for most games. Then, you can watch as the books adjust those lines based on live scoring and time remaining.
You can see how fast the lines change and lock in a bet when you feel the timing, and the line, is right. You'll see that these lines can change in an instant, so using an Indiana online sportsbook app is really the best way to truly keep up and bet on them.
Player totals over/unders
A lot of the props markets you'll find at Indiana sportsbooks is made up of player stat line totals bets.
Here you can bet on things like:
whether a certain NBA player will score over or under a specific number of points
whether an NFL QB will throw over or under a specific number of yards
Think of a stat line in a major sport and you can probably book a prop on it that operates just like a traditional totals bet.
Why bet totals rather than moneylines or spreads?
Like we said earlier, totals are one of the easiest ways you can bet on sports. The research required to bet over/unders effectively is also easier to compile than most.
There's no need to pick winners, compare teams, or decide who matches up best against any given team or player. You simply need to look at scoring averages and decide whether oddsmakers have set the line effectively based on that.
If the line looks too high, bet the under. If it's too low, bet the over. And finally, if it's just right, save your money. We think you'll agree there's a lot more to consider when betting the moneyline or spread.
Understanding over/under odds and lines
Here's a brief explanation about over/under betting odds, and how oddsmakers determine what totals lines to set for each game.
Why does the over/under move or change?
Sportsbooks move totals lines for all sorts of reasons. A change in the weather forecast, an injury to a key player, or a recent roster move can all force sportsbooks to adjust a totals line. Of course, sportsbooks will also move lines when there's heavy betting on one side or the other.
Sportsbooks want an equal amount of betting on both sides so they can realize the vig without having to sweat the outcome of a game. They'll move either the line itself, or the odds on either side of a bet, to even things out.
How are over/unders set?
Oddsmakers set totals lines by taking various factors into consideration. They start with basic league scoring averages and include team-specific scoring averages as well.
Then, they look at things like historical matchup data, weather, and scheduling.  Finally, they study recent performance data, lean on sport-specific expertise, and look at what other sportsbooks are doing in setting totals lines for every game in every major sport.
How is the Vegas over/under different?
For the most part, the totals lines you'll find at Indiana sportsbooks will be the same ones you'll see inside sportsbooks at casinos in Las Vegas.
Where they might differ is in how they change. Lines move independently based on betting at a sportsbook. That means a line might change at one Indiana online sportsbook and not another, or not in Las Vegas.
No matter where they are, sportsbooks are trying to draw equal betting to each side of a bet so they can realize the vig and not have to worry about the outcome.
If more money is bet on one side of a bet at one sportsbook, that sportsbook will move that line to try to even things out. While the line will change there, it won't change elsewhere.
Local teams draw more attention and betting action in Indiana than they do in Las Vegas. That means local sportsbooks are likely to see more money bet on one side of a bet involving local teams. Those lines are much more likely to move.
That's why most totals lines might open the same in Vegas as they do in Indiana, but they could end up quite different by game time.
3 biggest over/under betting mistakes
We all make mistakes, but we can learn from them. Here are three totals betting mistakes you should learn to avoid:
1. Too many overs
Fans love offense and often make the mistake of betting with their hearts instead of their heads by betting too many overs and cheering for any and every offense to score more and more points.
Just remember that oddsmakers know what they're doing and it's just as likely the under will come in most of the time.
2. Too many totals
Just because Indiana sportsbooks post a totals line for every game doesn't mean you have to bet on them all. Look for high totals and bet the under. Find low totals and bet the over. Then, you can avoid betting on totals lines that look just right.
3. Throwing darts
Totals betting is so simple there's a tendency for people to just pick the over or under without doing any research. Oddsmakers have set the lines based on real life data and you should base your picks on the same.
Don't just blindly throw darts at a board. Look into the offensive and defensive stats of the teams involved in a game and make an educated guess as to whether oddsmakers have set the totals line right.