What Is A Proposition Bet?
A proposition bet, otherwise known as a prop bet, is essentially a bet on a "game within the game."
Prop bets often are based around in-game stats and players or teams achieving certain statistical milestones. Think passing yards for an NFL QB, points or assists for an NBA player, strikeouts for an MLB pitcher, or total team goals for an NHL club, just to name a few examples
There are hundreds of different props you can bet on at Indiana online sportsbooks for every major sport. Think of a stat, ask yourself a question about it, and you can probably bet a prop on it.
Props can either be a really fun betting alternative or an exciting add on to traditional single-game sports betting. It also may be the closest thing sports betting has to daily fantasy sports, because it focuses mainly on the stats of your favorite athletes.
Does that make props a great bet for sports betting rookies? Is prop betting smarter than other forms of betting? Are some sports more suited to prop betting than others?
The answers to these questions and more can all be found below in our guide to prop betting at Indiana online sportsbooks.
Best Indiana online sportsbooks for prop betting
Rank
Sportsbooks
Bonus
Features
Play
What is a prop bet?
Like we said earlier, props are bets on things that may or may not happen during a game.
These things don't often directly affect the outcome of the game you are betting on. Props are mostly about betting on whether players or teams can achieve certain statistical milestones instead. However, some props may even extend to things on the periphery of the game as well.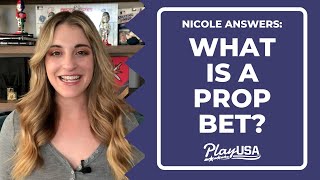 Prop betting began gaining popularity as a Super Bowl thing, and there are still more props surrounding the Super Bowl than any other sporting event. The Las Vegas SuperBook at the Westgate (previously the Las Vegas Hilton) got the ball rolling offering a huge number of props for different games.
These days, sportsbooks on the Las Vegas Strip and online sportsbooks right here in Indiana offer countless prop bets for the Super Bowl and dozens more for just about every game in every major sport all year round.
How do prop bets pay out?
Most props either:
propose something
ask a yes or no question
set an over/under the line you can bet on
Then, sportsbooks post odds on the different outcomes.
These betting odds are what you'll get paid if the prop comes through, you answer the question correctly, or end up on the right side of the line.
If the betting odds posted have a plus sign in front of them, the number represents how much you'll get paid, plus your bet back, for every $100 you bet. If the odds posted have a minus sign in front of them, the number represents how much you need to lay to get paid $100, plus your bet back.
For example, you might bet $100 on Indianapolis Colts' QB Carson Wentz to score a TD in the next game at +325. If he does it, you'll get paid a total of $425 ($325 + your original $100 back).
Or, you might bet $110 on Wentz to throw for over 325.5 yards at -110 in the game as well. If he does it, you'll get paid a total of $210 on that bet. If you choose to turn both bets into a parlay, you'll cash even more
What prop bets are available per sport?
Props, like statistics, vary by sport. Here's a look at some of the most popular prop bets for each major US sport:
NFL prop bets
Popular player props for NFL betting include:
TD passes
Rushing yards
Passing Yards
Catches
TDs
Popular NFL team props include:
Rushing/Passing/Total yards allowed
Turnovers
Team point totals
MLB prop bets
Common MLB player and team props include:
Strikeouts
Hits
RBIs
Home runs
You can bet on MLB teams or individual players, for a single game or specific time, including the entire season.
NBA prop bets
Popular NBA props include most statistical categories:
Points
Rebounds
Blocks
Assists
Steals
Turnovers
You can bet on NBA teams or individual players. You can also bet on a single game or specific time, including the entire season.
NHL prop bets
Popular NHL props include most statistical categories:
Goals
Assists
Saves
Penalty minutes
Just like the NBA, you can bet on teams, individual players, single games, specific time frames, and the entire season.
NCAA football prop bets
Much like the NFL, popular NCAA football player props include:
TD passes
Rushing yards
Passing Yards
Catches
TDs
Popular NCAA football team props include:
Rushing/Passing/Total yards allowed
Turnovers
Team point totals
NCAA basketball prop bets
Much like the NBA, popular NCAA basketball props include:
Points
Rebounds
Blocks
Assists
Steals
Turnovers
You can bet on NCAA basketball teams throughout the season, and, of course, you can bet on March Madness.
Other sports prop bets
You'll also find a props market for other professional sports like golf betting, tennis betting, MMA fighting, and soccer betting. As long as the league or governing body involved keeps an official stat, you can probably bet a prop surrounding it.
Super Bowl prop betting guide
The Super Bowl is where widespread prop betting began in earnest and where it truly lives and breathes to this day.
There are Super Bowl props available at Indiana online sportsbooks for almost everything involving and surrounding the Super Bowl. That may include props on the outcome of the coin toss before the game, what color Gatorade will be poured over the winning coach after the game, and everything in between. There are more props available for Super Bowl betting than anything else.
Super Bowl props generally fall into the following categories:
Player and team props: Props surrounding offensive and defensive game stats and awards like Super Bowl MVP. Will QB1 throw for over 325 yards? Who will be the first touchdown scorer? Who will record the first sack?
Off-field props: Props surrounding non-game action props, like the coin toss. Regulations for off-field props can differ from state to state and need to be individually approved in some cases.
Crossover props: Prop parlays involving the Super Bowl and other sports. Who will win the Super Bowl and the NHL or NBA games held on Super Bowl Sunday? Who will win the Super Bowl and the NBA Finals this year?
Exotic props: Props you never thought you'd bet on, like the color of Gatorade poured on the coach.
Why you should bet props
Props are probably the most fun way to bet on sports. Props can add all kinds of excitement to a game, giving you something more to root for than just the standard game outcome. Plus, you can get decent odds on a lot of props, allowing you the chance to win a lot for just a little.
Even people that are new to sports betting will quickly grasp the concept, and dedicated sports fans and longtime gamblers can use their in-depth knowledge about the sports they love to dominate various prop betting markets. That makes props perfect for casual and diehard sports fans alike.
The statistical nature of most props also makes them more like daily fantasy sports than anything else in sports betting. However, daily fantasy sports players will love the freedom prop betting provides, as you're not bound to any salary cap, stat type, or sport.
Whether you want to bet props exclusively or in addition to traditional single-game wagering, they're bound to up the fun and excitement level of your sports betting experience.
How much should you bet on prop bets?
Bet within your means using only disposable income that you can afford to lose. Do that, and how much you bet on props should be entirely up to you.
That said, you're going to want to follow certain bankroll management principles. That means putting together a betting bankroll, ensuring it is an amount you can afford to lose, and making sure you never bet too much of it on any single bet.
The best way to accomplish that is to create a unit amount equal to 1% of your bankroll. Then, you can bet anywhere from one to five units on each prop you're interested in, based on your confidence in the prop and the odds offered.
Pretty sure Kansas City Chiefs QB Patrick Mahomes will score a TD in the Super Bowl? Bet two units at +325. Almost 100% sure Mahomes will throw for over 325.5 yards? Bet four units at -110.
Do prop bets make sense more in one sport over another?
There's no reason why betting props makes more sense in one sport over another. That said, most props surround statistics, so it makes sense to bet props on the sports you follow closely and understand the best.
Betting props successfully requires good research and an understanding of statistical probability. That way, you can compare the odds offered on a prop to the chances of the outcome you are betting on actually happening. If they are close, you can fire away.
NFL props, and particularly Super Bowl props, are the most popular. But if you follow the NBA, MLB, and NHL closer than you do the NFL, betting props in those sports will make more sense for you.
How to place in game prop bets
Live betting via Indiana online sportsbooks adds a level of excitement to game watching, and in-game props are a huge part of it all.
Live betting allows you to bet in the middle of games at odds that change alongside the action. The odds change quickly, which makes online and mobile betting apps the only way to keep up.
While most of the markets you can bet on live are the same ones you can wager on before the game, they also include a bigger number of in-game props.
As the stats change, so do the odds, making in-game prop betting a fast, fun, and exciting way to be in on the action during the action of live sports.
Early cashouts
Some Indiana online sportsbooks may offer you the opportunity to cash out certain props that are still live. They'll post a cash-out price on the prop in your list of active bets and you can click on it to take it.
It might be a good option when you're losing confidence in the bet. Depending on the price offered, cashing out could help you claim at least some profit or recoup at least part of what you bet. Just be aware that sportsbooks rarely offer true expected value on cashouts.
Biggest prop betting mistakes to avoid
Props can be fun and there's nothing wrong with treating them as such. Nor is it a bad idea to take prop betting more seriously, researching statistics and betting according to probability.
No matter how you approach props, you should try to avoid making the following prop betting mistakes:
1. Betting against yourself
There are a lot of props available for most games. So many it can be difficult to keep track. While you're scrolling through the list and firing away on the props you like, try to avoid the mistake of betting against yourself. You'd be giving away money if you bet on a QB to throw over 300 yards and then bet on the opposing defense to give up less than 300 passing yards. There aren't too many contrary props, but you should still try to avoid betting opposite sides of two that are.
2. Betting too much
A lot of props are longshots offering big odds. Avoid the mistake of betting too much cash on these longshots, as prop bet odds are often big enough that betting a small amount will get you a payoff that's big enough.
3. Betting big favorites
Avoid the mistake of betting on big favorites, as the odds are often set at a point where you have to bet something really big to win something really small. The risk is hardly worth it.
Common sportsbook prop betting rules
Read the fine print before you bet on any prop. Indiana online sportsbooks may have different rules about different props and how certain situations are handled. The one thing that's sure is that sportsbooks will publish all the rules for how they do things.
For the most part, however, you can count on Indiana online sportsbooks employing the following rules when it comes to props:
Scores and stats from overtime periods count unless otherwise stated.
Props can be deemed 'no-action' wagers if a game is suspended for any reason and all bets will be returned.
Prop results are not official until the result of the game is deemed official.
Most player props are voided if the player does not play and all bets returned.